UPDATED NEWS: "Concerns for Tibetan sentenced to death in Ngaba after secret trial" International Campaign for Tibet, 28 January 2014
The Chinese state media Xinhua reported on 16 August 2013 that the Intermediate People's Court in Ngaba Tibetan and Qiang Autonomous Prefecture sentenced Dolma Kyab, 32, to death for 'killing his wife and burning her body to make it look as if she had self-immolated.' Dolma Kyab's wife, Kunchok Wangmo, self immolated on 13 March 2013 in protest against China's rule in Tibet.
Her husband, Dolma Kyab, was detained shortly afterwards because he refused to comply with an order by the Chinese authorities who wanted to blame the self-immolation on a family dispute.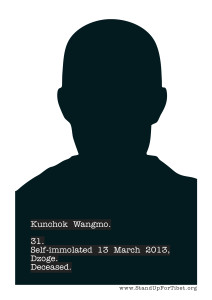 Xinhua reports, "The court found that at 11pm on 11 March, Drolma Gya choked his 29-year-old wife Kunchok Wangmo to death with a scarf in their apartment in Zoige [Tibetan: Dzoge] County following an argument over his drinking." The Xinhua report also stated that Dolma Kyab "burned the body because he believed an apparent self-immolation would help him cover up the crime, as well as preserve his dignity and that of their daughter." (Global Times, Man sentenced to death after faking wife's self-immolation).
According to Chinese law, the case must now be reviewed by a higher court. If a first trial by an intermediate people's court hands down the death penalty, the first appeal is conducted by a High People's Court and also by the Supreme People's Court. The higher courts have the power to change the verdict, including to impose a death sentence suspended for two years, which generally means life imprisonment. If the death penalty is upheld without reprieve, the execution is generally carried out shortly afterwards.
The only evidence given about this case is a 'confession' by Dolma Kyab. It is known that torture is frequently used to extract confessions in China, and that Tibetan prisoners are often tried secretly behind closed doors without legal counsel of their own choosing.
An editorial on 3 December 2012 in the Gansu Daily stated that the Ministry of Public Security, Supreme People's Court and Supreme People's Procuratorate had jointly issued 'Opinion on Handling Cases of Self-Immolation in Tibetan Areas According to Law', criminalizing various activities associated with self-immolations, including "organizing, plotting, inciting, compelling, luring, instigating, or helping others to commit self-immolation," each of which may be prosecuted as "intentional homicide." According to the Opinion, the motive of self-immolators is "generally to split the country," and the act itself constitutes criminal behavior, as it poses a threat to public safety and public order. The Opinion states that "ringleaders" will be targeted for "major punishment."
Source: International Campaign for Tibet, Death penalty for Tibetan after death of wife in Ngaba