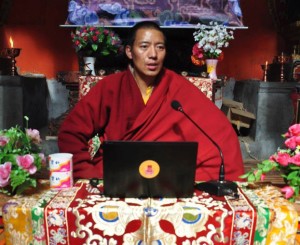 Khenpo Kartse, a highly respected Tibetan abbot has been in detention since December 2013 and is understood to have been sentenced to two-and-a-half-years in prison in a secret trial. He is known to be suffering from serious medical health issues relating to his lungs and liver, for which he had sought regular medical attention prior to being detained. Recent reports state that he has been coughing up blood and appeals by his lawyers for his better treatment were regularly rejected by authorities.
Khenpo Kartse (layname Karma Tsewang) is a prominent local religious figure and is actively involved in efforts to promote and protect Tibetan language, culture and religion. He also undertook social work, and following the devastating earthquake in Jyekundo in 2010 led a team of monks to help with relief work.
Khenpo Kartse's health is of serious concern. His lawyer , Tang Tian Hao, was only allowed access to him after three-months and local sources voiced worrying concerns for the conditions he was being held stating that "He has problems with his liver and lungs . He is coughing up blood, and he has pains in his back and waist."
Tang Tian Hao called on the authorities to immediate improve the conditions of Khenpo Kartse's confinement and urged that he be allowed access to regular medical examinations "as provided for under the law". Radio Free Asia reported that local sources said Khenpo Kartse is being kept in "an extremely cold room with no access to sunlight" and is being inadequately fed. Read Radio Free Asia's report
Shorty after Khenpo Kartse's arrest, hundreds of monks and laypeople staged a demonstration calling for his release. The protestors chanted slogans, carried photos of Khenpo Kartse and held banners reading, "Please look at the anguish of students separated from their teacher." Chinese police arrested 16 Tibetans in Nangchen in relation to the protest. The group is believed to comprise mostly, if not all, of monks. They were taken to the Yushu county detention centre.
A week after the group were detained, a letter purportedly sent from Khenpo Kartse whilst in detention came to light. The letter urged local Tibetans to remain calm and continue with their daily activities. According to Radio Free Asia, the hand-written letter, which could not be verified, said, "I heard that there was recently a clash between police and Tibetans. Please make sure such incidents do not happen again… Please be more broadminded and maintain good relations with the authorities." The letter also stated, "I am well and have not been physically harmed… Please assure my relatives they should not worry about me."
On 3 and 5 Janaury, eight Tibetans were detained in Karma township, Chamdo county, where Khenpo Kartse is accused of carrying out anti-state activities. According to sources quoted by Radio Free Asia, the eight were detained for "links to a grassroots campaign aimed at forging unity and enhancing literacy levels among Tibetans". However, it is not clear if the detentions are linked to Khenpo Kartse.