Campaigners express concern for his safety and the five years deprivation of political rights that begins now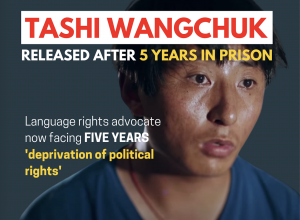 Chinese lawyer Liang Xiaojun today tweeted news that Tibetan language advocate Tashi Wangchuk was taken to his family in Trindu county in Kham [CH: Chengduo, Yulshul Prefecture, Qinghai] today after completing a five years prison sentence. He added that it is not entirely clear how 'free' Tashi Wangchuk is due to a lack of contact with his family or photographic evidence of his status.
Tibetans and global Tibet activists expressed concerns for Tashi Wagchuk's safety and wellbeing, warning his sentence continues with a five-year deprivation of political rights which means that he will not have the rights to "free expression, association, assembly, publication, vote, and to stand in elections" and will see him under constant surveillance.
Tashi Wangchuk, a shopkeeper from Kyegundo in Kham [CH: Yushu County, Qinghai], was arrested in 2016 after he featured in a New York Times report about his plight to seek the right for children in Tibet to learn in Tibetan. The video report highlighted Tashi's journey from Tibet to Beijing to file a formal complaint about China's failure to support Tibetans' right to Tibetan language education.
He was detained on 27 January 2016 and held without trial for two years until he appeared in court on 4 January 2018.
Tashi Wangchuk was charged with the highly politically motivated 'offence' of "inciting separatism", a charge that "criminalize(s) the legitimate exercise of freedom of expression and his defence of cultural rights", according to UN experts. China's Constitution states that "All nationalities have the freedom to use and develop their own spoken and written languages."
Tashi Wangchuk was tortured and suffered extreme inhumane and degrading treatment during the early days of his detention. He was initially held for a lengthy period in a 'tiger chair' where he was subjected to arduous interrogation and was repeatedly beaten. His interrogators also threatened to harm his family.
He was denied the right to see his lawyer on multiple occasions during pre and post-trial, in serious violation of his right to a fair trial. On 15 January 2019, Tashi's lawyer made a request to visit him, but officials at the prison denied this request citing the political and sensitive nature of the case. Most recently, the Chinese authorities blocked Tashi's access to legal representation on 27 April 2020 and 19 June 2020 with COVID-19 given as the reason for his denied access, despite the fact that there were no reported active cases of COVID-19 in the area. Tashi was not afforded the option of a video call with his lawyer.
Tenzin Tselha of International Tibet Network said: "Today may mark the end of Tashi Wangchuk's unjust imprisonment, but he remains unfree, with a further five years deprivation of political rights which will see his every action surveilled. Tashi's only "crime" was to peacefully call for the right of Tibetans to learn in their own language and governments must take strong, assertive action calling for his human rights to be upheld following his release."
John Jones of Free Tibet said: "We are thrilled with the news of Tashi's release. He is a Tibetan hero who has shown immense courage and determination. It is an outrage that he was ever jailed in the first place, and it is further galling that he will now have his rights further curtailed and repressed. We vow to continue pushing for his freedom and call on governments to take joint action calling on authorities to immediately lift all restrictions on him."
Dorjee Tseten of Students for a Free Tibet said: "The fact that Tashi Wangchuk languished behind bars for five years just because of his work to protect the Tibetan language shows just how dire the human rights situation is in occupied Tibet. Many other language rights advocates, like Tashi, are imprisoned in Tibet simply for exercising their rights. This includes 23-year-old monk Sonam Palden, who was arrested after he published a poem about the marginalization of the Tibetan language. We will continue pushing at all levels for Tashi's rights to be upheld and for the immediate and unconditional release of all other Tibetan political prisoners."
Tashi Shitsetsang of Tibetan Youth Association Europe said: "Tashi Wangchuk has been criminalised for shedding light on China's failure to protect the basic human right to education in occupied Tibet. We urge governments to speak out about China's treatment of Tashi Wangchuk, and all Tibetan human rights defenders, and to press Chinese leaders to stop using the charge of "separatism" to lock up Tibetans who peacefully advocate for their human rights."
Tashi Wangchuk's case has been raised by multiple governments and independent human rights experts. In March 2018 six UN human rights experts expressed serious concern over the ruling by a Chinese court to uphold charges of "incitement to separatism" and called for all charges leveled against Tashi Wangchuk to be dropped. In January 2018, government delegations from the UK, EU, US, Germany, and Canada attempted to attend the trial but were all denied access. Court officials also refused to allow a New York Times reporter into the trial, despite several requests.
China is replacing Tibetan-language schooling with Chinese and coercing parents to send children to faraway residential schools. This insidious plan has been designed to stamp out the next generation of Tibetan speakers and in an attempt to eliminate the Tibetan identity.
China describes the language policies for occupied Tibet as "bilingual education," but with Tibetan-language schools being forced to close their doors and kindergarten-aged children being forced to learn almost only in Chinese, it's clear that this is a deliberate effort to strip Tibetans' language and culture from them.
Tibetans have expressed widespread concern about the increased crackdown on Tibetan language rights, which is resulting in a loss of fluency among the younger generation. A new urgent action, launched on 18 January, calls on Chinese leaders Vice Premier, Sun Chunlan and Minister of Education, Chen Baosheng to immediately reinstate Tibetan language education, and make it available to all Tibetan students at each stage of their education.